Lady has had a rough last few years. In 2015 she was attacked by another dog and had to go through 2 surgeries. Then in 2017 she had surgery to remove a nasty Soft Tissue Sarcoma on her rear left foot.  In 2018 it came back, Stage III. So, we opted to remove the leg to save her life. Her eyes were so bright, there was no denying she had so much life still in her!!! Let me tell you that even the night after her amputation, she followed Henry, the vet tech around the clinic (Thanks Henry for your kind support of my girl), and on the second night she followed Sam around too!!! (Thank you Sam for your love and kindness!!).
It's been a year and she still has a light in her eyes and the love of her big red ball!!! We are now on the quest for a cart for her. I have chosen Eddie's Wheels and hopefully we will be ordering today!
Give your furbabies hugs and kisses from Lady and I!!!
Hi everyone! This is the story about my girl Lady. I adopted Lady from SPCA International. Lady is a retired working dog worked in Iraq. While she always found everything she was looking for in her tests, she stopped really wanting to work – "she lost the will to work". She continuously looked for shade and would rather be playing then actually working. So the kennel master of the company she was working for decided it was best that she become a pet. SPCA International was able to relocate her from Iraq to Michigan where she now lives. I am so thankful to SPCAI and Terry Crisp for allowing me to adopt Lady. She is such an amazing girl!
She is such a fun dog! She loves to play ball and always kicks the ball to you. You can even ask her to kick it to you and she will!
I currently and have had for the past 2 months then feeding Lady Ziwi Peak, I add coconut oil, black seed oil, CBD oil, Golden Paste, and other supplements to help try to eliminate the cancer as much as possible. Unfortunately this did not work, I had just started the ketogenic diet and supplements and the cancer was too aggressive. She ended up having a very large tumor, close to the size of two of my fists put together, and was taken into surgery very quickly after her ultrasound and x-rays exams were completed. The tumor doubled in size in less than a week. It had exploded twice, once on the morning before surgery.
I am extremely thankful to my family for their support and to Lisa and Rambo of Gizmo's Gift for their continued support of Lady and retired working dogs like her!
Read this for important information!
Welcome to Tripawds. Please read on for important tips. This is your first post. Edit or delete it, then start blogging. Don't miss our helpful WordPress tutorial videos if you need help getting started with your new Tripawds blog.
PLEASE NOTE:
Tripawds Blogs shall NOT be used for commercial OR fundraising purposes.
The free Tripawds Blogs platform shall not be used by an commercial entity. Any blog created by a veterinary clinic, product manufacturer or any other commercial endeavor will be deleted and all users removed without warning. Please contact Tripawds regarding guest article submission opportunities.
Direct appeals for financial assistance to help cover care expenses will be deleted without notice. Everypawdy in the Tripawds community faces their own share of high expenses related to surgery, recovery and care. Veterinary financial aid resources can be found in the Tripawds News blog. Please see the Tripawds Fundraising Appeals Policy for more information. Thank you for your understanding.
Do not reply to this post!
Please publish a new post (or edit this one) to share your story. The Tripawds community is only notified of new blog posts in the Recent Posts widgets found throughout the News blog and discussion forum pages. Members will not be notified of any comments made on this default first post. You can also choose to edit or delete your sample page.

Publish a blog post or your site may be deleted!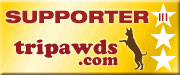 Please be sure to publish at least one blog post to let us know you that you may use your blog. NOTE: Failure to do so may result in your site being deleted. If you upload photos to your Media Library, but fail to publish a post, we'll never know they are there and they may be gone forever!
Another way to ensure your site does not get deleted, is to upgrade it with a Tripawds Supporter subscription.
By default your site will be indexed so Tripawds members will be notified of your update in the Recent Posts lists throughout this community. If you change your Privacy settings to discourage search engines, your posts will not be indexed! 
To limit the amount of spam you receive, any first comment a reader makes on your blog will require moderation. Be sure to "Spam" any inappropriate comments, and approve those from your readers so their future comments appear immediately. You can change your comment options from the Settings -> Discussion tab in your dashboard.
Thank you for sharing your story, and happy blogging!